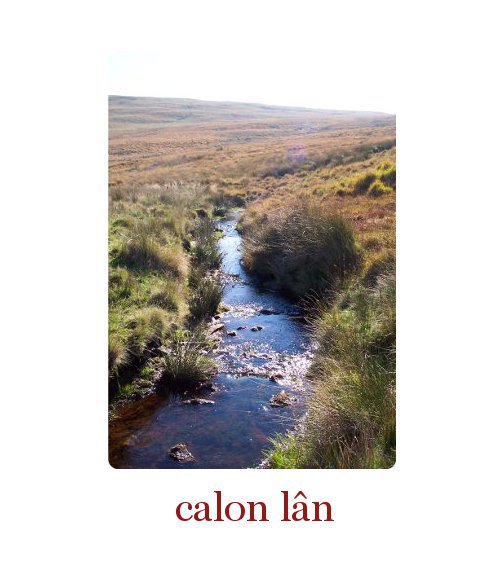 calon lân
Nid wy'n gofyn bywyd moethus,
aur y byd na'i berlai mân.
Gofyn wyf am galon hapus,
calon onest, calon lân.
Calon Lân yn llawn daioni,
tecach yw na'r lili dlos!
Dim ond calon lân all ganu;
canu'r dydd a chanu'r nos.
Geiriau gan Daniel James (1848-1920),
Alaw gan John Hughes (1872-1914).
Addasiad yma: Eirlys Rhiannon
I'm not asking for a life of luxury,
the gold of the world nor it's fine pearls.
I'm asking for a happy heart,
an honest heart, a clean heart.
A clean heart, full of goodness,
is more beautiful than the finest lily.
Only a clean heart can sing
- sing the day, and sing the night.
(English translation by Eirlys Rhiannon)
Words by Daniel James (1848-1920),
Melody by John Hughes (1872-1914).
This arrangement by Eirlys Rhiannon
As performed on Sleep by:
Vocals – Eirlys Rhiannon