---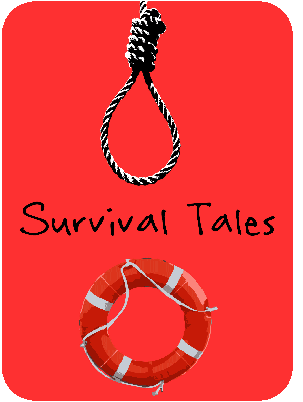 about survival tales
Survival Tales is a performance and participation project.
It was written and devised by me – Eirlys Rhiannon – with the help of some friends, and it has two core parts:
The first part is a one-woman performance of spoken word and songs.
I meander around some of my personal stories and explore how these are connected to wider questions about our culture, belief, democracy, and what it means to be human.
The second part is a bit like a parlour game.
In small groups, the audience chooses what to keep on their metaphorical rafts and what to throw to the sharks in order to keep their raft afloat. There is usually a lot of laughter, even while these big epic life-or-death questions are being explored.
These two parts together make up each Survival Tales show, or hosts can decide to mix and match the parts as part of other events.
> comments from previous participants
venues and hosting
Survival Tales shows are designed to be small and intimate – between 12 and 20 participants is ideal. They have so far taken place in living rooms, social centres, cafes and community gardens.
The events are hosted by individuals, groups, or venues, always with a no-one-turned-away-for-lack-of-funds policy. (Culture and discussion are life essentials, not commodities.)
Survival Tales toured around the UK during summer 2010, an a zine version of the show is currently in progress.
thank you

Survival Tales was brought into the world with kind assistance from the following people:

Trapese Popular Education Collective and Natasha Machin
---
about survival tales
| 2011 |
survival tales
| Tags:
APE
,
belief
,
climate change
,
community
,
culture
,
democracy
,
identity
,
money
,
oil
,
protest
,
Trapese
| Comments (0)