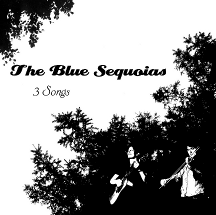 the blue sequoias – 3 Songs – review
Bristol duo The Blue Sequoias do stripped down alt/folk; two voices, acoustic rhythm guitar, piano and fiddle.

This demo, '3 Songs', finds The Blue Sequoias in quite solemn sounding mode. Interestingly, the songs themselves aren't altogether that solemn but the choice of instrumentation coupled with the nicely dusky vocals tends to result in a slightly down-beat but nicely haunting feel. Opening with 'Light Your Sky', which is actually fairly bubbly in the context of things, the theme is set. Featuring the voice of Eirlys Rhiannon and fiddle of Rowan Armes over the former's strummed guitar it's a strongish opening track. 'Vertigo' follows and opens with plucked fiddle and sees the introduction of piano which adds a bit of punch to the mix. The piece rolls nicely along and becomes quite catchy. 'The Dance' has a slightly gipsy feel as the mournful fiddle passages punctuate Eirlys' voice. Now, this is the darkest piece and for me the most rewarding. The Blue Sequoias capture something dark but very likeable here; the vocal and fiddle come together to add atmosphere and emotion.

I can see that '3 Songs' must be a good representation of The Blue Sequoias' live act but as a recorded work it just feels a bit too flat. As a demo for gigs, probably on the folk circuit, I don't see a problem. As a saleable work I'd prefer it if The Blue Sequoias had 'gone to town' a little when in the studio. If a few overdubs and/or a extra instrumentation had been added it would've introduced dynamics that just aren't there at the moment and would've lifted the whole thing to a higher level. But hey, that's just my humble opinion!

The Blue Sequoias' alt/folk (my description not theirs) thing is pretty interesting. The songs are strong and provide a good solid foundation for the duo to work on. Their (rather limited) choice of instrumentation here does tend to over-darken the songs but, I don't know, perhaps that's exactly the feel they're after.

'3 Songs' is an interesting and workmanlike demo that shows good strength of songwriting with haunting melodies and catchy choruses. The dusky vocals work beautifully and add meaningful depth to the well thought out lyrics. The Blue Sequoias are doing something just that little bit different and I hope they continue to challenge the folk scene with their alternative approach.